Our two separate (yet in some ways similar) senior years were 10 years apart, even though Coach Casteel is 11½ years older than I am. It seems that he finished high school a year late because an automobile accident forced him to repeat the second grade. On the other hand, I finished high school a year late because of an accident of birth, i.e., I began grade school a year late because my birthday didn't fall at least three months earlier.
Rather, I was born just as my father was preparing to deploy to the World War II ETO, i.e., from England to France, and then on to Berlin as an infantry second lieutenant. He was commissioned on September 18, 1943, at the Benning School for Boys, i.e., Infantry Officer Candidate School (OCS) located at Fort Benning, Georgia. This, after his having attended Oklahoma A&M College (now Oklahoma State University) in Stillwater, my hometown. He would graduate with a degree in hotel & restaurant management after his return from the war in February 1946.
Getting back to Avondale High School now—I can see the optimism in those Plume faces!
Yes, optimism—even though '53 bore witness to the Korean Civil War that had been raging and taking some 36,600 dead, 103,300 wounded, 7,900 missing & 4,700 prisoners of The Best and Finest of Us™ since September of '50—that is, over a period of just 3 years (an average of 46,600 dead/wounded per year). The north invaded the south in June '50, and was aided by an October '50 Chinese invasion across the Yalu River—the latter after the N. Koreans were beaten back beginning with the risky September '50 Inchon counterattack by U.N. forces under the overall command of General of the Army Douglas MacArthur.
Oddly enough, President Eisenhower would reap the bitter harvest associated with bringing the third and final year of the foregoing unconstitutional and undeclared UNSC (UN Security Council) conflict on the Korean Peninsula to a close—while he simultaneously, unintentionally and dichotomously planted the seeds that would lead to America's statutorily authorized, and yet just as unconstitutional and undeclared, as well as indeterminate and historically unwinnable counterinsurgency, in another part of SE Asia, i.e., Vietnam, Cambodia and Laos beginning in '64.
The Best and Finest of Us™ first arrived in country in '65. By '73, the SE Asia Counterinsurgency took some 58,300 dead, 153,300 wounded, 1,600 missing & 800 prisoners of The Best and Finest of Us™ over a period of some 8 years (an average of 26,500 dead/wounded per year—some 40% less per year than the Korean Civil War).
By '63—President John Fitzgerald Kennedy (JFK) and future President Lyndon Baines Johnson (LBJ) (then vice president and former senate majority leader) were already on a collision course to intensify the by that time ongoing SE Asia Counterinsurgency that the post-World War II Free French lost to General Vo Nguyen Giap's Viet Minh forces in '54 at Dien Bien Phu. As a matter of fact, both Ike's & JFK's puppet president in South Vietnam since '54, Ngo Dinh Diem, would be assassinated within three weeks of JFK in November '63.
Interestingly, both Giap and Diem attended the same school in Hue when they were boys, although Diem, the future S. Vietnamese dictator ('54-'63), was ten years older than the future N. Vietnamese Army (NVA) and Viet Cong (VC) military commander ('46-'75), General Giap.
Another interesting coincidence is that Hue would turn out to be at the center of a fierce battle between American Marines & Soldiers (5 battalions) and ARVN (Army of S. Vietnam 11 battalions) and 10 battalions of Giap's NVA & VC during the '68 TET Offensive from January to March of that year. Although a military loss for Giap, the TET Offensive turned the tide of U.S. public and congressional opinion against America's SE Asia Counterinsurgency—and resulted in LBJ simultaneously firing & elevating General William Childs Westmoreland (USMA '36), to the position of Army Chief of Staff ('68-'72) back in Washington, D.C.
SE Asia Counterinsurgency dead and wounded of The Best and Finest of Us™ would rapidly accelerate beginning in '65 when said field artillery officer assumed command of the U.S. Military Assistance Command Vietnam (USMACV)—the latter's headquarters being in Sai Gon.
If Jim Casteel had not repeated the second grade, he would have graduated with the AHS Class of '52—and very likely have been drafted and sent to Korea by President Harry S. Truman (the "S" not signifying anything, by the way). If Jim had been deployed to the Korean Peninsula as an infantryman, his chance of being killed would have been 1 in 10, and his chance of being wounded would have been 1 in 3 (based on the maximum strength of The Best and Finest of Us™ being some 326,000 by '52).
On the other hand, if I had started grade school three months earlier, I would have graduated with the CKHS Class of '62, and likely been drafted for two years—and then become a freshman & sophomore at Georgia Tech (Georgia Institute of Technology) studying architecture by the time of the Gulf of Tonkin Resolution in '64, the latter followed by the first major deployment of The Best and Finest of Us™ in '65.
Yes, '65 was when LBJ used congress's carte blanche Gulf of Tonkin Resolution to cavalierly and politically intervene on behalf of the already failed state of South Viet Nam in its already failed counterinsurgency against the Viet Cong and North Viet Nam (i.e., against General Giap). Most accounts indicate that the events leading up to congress's Gulf of Tonkin Resolution were fabricated by the Johnson administration—LBJ's focus on South Viet Nam being completely secondary to his domestic legislative agenda (until it was too late, of course). LBJ is said to have remarked that he did not intend to be the first U.S. president to lose a war—which wasn't exactly correct, of course. After all, HST enjoyed that dubious honor because of the open ended way in which the Korean Civil War had ended after China invaded across the Yalu River. In reality, the N. Koreans are still at war with the U.S. and S. Koreans, i.e., there is an armistice and not a peace treaty—nor will there ever be with the brutal "Chun Yun Fat" (the brother of the late "Chun Yun Fatter") in total control of the north. It is said that the north has 1,000 airplanes, 6,000 artillery tubes and 4,000 main battle tanks ready to destroy the south's capital city of Seoul—with just a few thousand of The Best and Finest of Us™ situated below the DMZ and above Seoul. Naturally, it is those few thousand Americans whose dead and wounded will guarantee that the Trump administration counterattacks and goes to war with the north. This, should the first 6,000 artillery rounds land in Seoul, thus breaking the terms of the '53 armistice—said counterattack having little if any chance of being debated in congress. In other words, a Constitutional declaration of war by congress has about as much chance of being declared as the chance it had in '50.
As for me, I might have entered Georgia Tech in '63 and enrolled in ROTC (Reserve Officer Training Corps). In the foregoing historical scenario, I could very well have been commissioned as an active duty second lieutenant in the U.S. Army Corps of Engineers by the summer of '68 (based on Georgia Tech's 5-year architectural curriculum)—and perhaps even found myself deployed to Viet Nam during the fierce fighting that followed the January '68 TET (lunar new year) Offensive that shook South Viet Nam, Sai Gon, the White House, Capitol Hill and American public opinion to their very foundations. Assuming that as a combat engineer, my chances of getting killed or wounded would have been about the same as an infantryman, that would have meant a 1 in 15 chance of my being killed, and a 1 in 3 chance of my being wounded (based on the total strength of The Best and Finest of Us™ being some 536,000 by '68).
In any event, the foregoing are all interesting conjectures based on just a one year change in a couple of personal histories—sooner than later, that is.
Naturally, we all know what happened during the tumultuous election year of '68. First, there were two assassinations, i.e., Martin Luther King on April 4th in Memphis, and JFK's younger brother, Robert Francis Kennedy, on June 6th in Los Angeles.
By '68 and in ill personal health (and in even worse political health), LBJ gave up his aspirations for a second presidential term—leaving Richard Milhouse Nixon to defeat Hubert Horatio Humphrey for the presidency in November '68. While there may have been an upside to that election for the middle, working & poor class members of America's voting and nonvoting electorates—there was a downside as well.
LBJ had a very successful run in the domestic arena. On the other hand, the SE Asia Counterinsurgency more or less washed the results of LBJ's November '64 landslide election victory over U.S. Air Force Reserve Major General and U.S. Senator, Barry Morris Goldwater (following the November '63 assassination of JFK) right down the proverbial political drain—a huge victory that presented LBJ with 90% of the electoral vote, 61% of the popular vote and 88% of the states. One must remember that LBJ ran on a peace platform in '64. We all remember LBJ's television campaign spot whereby a little girl, a daisy and a mushroom cloud combined to send a

to the American people—that is, a campaign promise that LBJ failed to keep because of his (and General Westmoreland's) many miscalculations in Viet Nam.
By '65 unfortunately, LBJ had allowed himself and his administration to be sucked into an unconstitutionally undeclared, indeterminate and historically unwinnable counterinsurgency. One could say that the expenditure of middle, working & poor class Blood, Time & Money™ could have logically been avoided in SE Asia by a White House, Pentagon & parallel congresses whose principals shamefully and shamelessly ignored the already by that time well known extreme drawbacks of counterinsurgency warfare—drawbacks whose proverbial "reinvented wheel" has been rolled across SW Asia by George Walker Bush, Barack Hussein Obama and now Donald John Trump for the past 36 cumulative years, i.e., Afghanistan (17 years), "Iraq" (15 years) & now "Syria" (4 years)!
Right. That downside. Well, the downside of the RMN victory was that the American and Vietnamese casualty rates would dramatically increase in Viet Nam, and The Best and Finest of Us™ would not come home from SE Asia until '73. All the while, RMN and his Secretary of State, Henry Kissinger, did their best to facilitate and exercise the routine biennial upper class Big Six™ Management, Entertainment and Confusion™ of America's voting electorate—while simultaneously orchestrating a secret, massive, indiscriminate and (in the end) largely unsuccessful carpet bombing campaign over Cambodia, Laos and N. Vietnam (and S. Vietnam as well).
In the interim, RMN would be found to have committed election year "high crimes and misdemeanors"—this, leading to his practically being impeached by the House of Representatives, and the first resignation from the presidency in American history in '74 (before any impeachment articles could be voted on by the House, and therefore before any trial could be conducted by the Senate and presided over by the Chief Justice of the supreme Court).
One could say that the foregoing demonstrates both the unconstitutional negatives and the Constitutional positives associated with the upper class Big Two™, i.e., Big Government (President and House/Senate) and Big Legal™ (supreme Court). The foregoing impeachment process targeting RMN occurred, notwithstanding the fact that the middle, working & poor class voting and nonvoting electorates presented him with a landslide presidential election victory in 1972 over George Stanley McGovern—a victory that presented RMN with 97% of the electoral vote, 61% of the popular vote and 96% of the states.
Ironically, former U.S. Army Air Forces First Lieutenant, McGovern, had been a World War II bomber pilot over Europe—and therefore a presidential candidate who was intimately aware of the indiscriminate devastation that carpet bombing can do.
Incidentally, the nonvoting electorate does its part by simply boycotting elections. After all, it is much easier for the upper class Big Media plus the remaining Big Five™ to exercise their routine biennial Management, Entertainment and Confusion™ of the voting electorate when the number of voters is minimized by the self-maximization of the number of nonvoters—the nonvoting electorate essentially and sadly throwing their Constitutional right to vote to the four winds. After all, when not happy with their presidential ballot choices, any member of the voting electorate can simply create his or her own candidate by writing in the name of any constitutionally qualified American citizen!
---
James Mayo "Jim" Casteel is the middle child of four brothers and a sister, and was born on June 17, 1933, southeast of Atlanta in Newton County, Georgia. His mother and father earned their living in the cotton mill of the village where they raised their children.
As I alluded to earlier in this narrative—when Jim was seven years of age, he was hit by a car while walking home from school. While unconscious for more or less two weeks, Jim's doctor told his parents that their son's shattered left leg might prevent him from walking again. As a result of the accident, Jim missed a year of grade school and was forced to repeat the second grade.
According to Mrs. Casteel, her husband grew to six feet, but kept his weight at 145 pounds during his high school years. Along the way, he lettered in varsity football, basketball, baseball and track.
In my case interestingly, I maintained an optimum running weight at CKHS of 145 pounds while growing to 5'10". Although not as athletically versatile as the future Coach Casteel, I earned two varsity letters, one in band and the other in track—all the while wielding three batons, big, small and medium, i.e., those of the marching band drum major, concert band conductor and third-leg member of the mile relay team.
Jim established the Avondale High School record in the 440-yard dash (open quarter mile). Likewise, I established the Cross Keys High School record in the 440-yard dash (53.6 seconds) during a 1963 meet at his alma mater, Avondale. Additionally, I established the CKHS record for the third-leg of the mile relay at the '63 Georgia State Track Meet (51.0 seconds).
At a later date, Jim went on to establish a record of 50.2 seconds in the open quarter mile at a Georgia State Track Meet during his high school running years. Interestingly, Jim didn't know that his time was a state record until three years later when the fellow who broke it told Jim about it.
Here's something else that Jim likely won't know until he reads this.
During the '12 Summer Olympics in Stockholm, the great Jim Thorpe's open quarter kilometer (400-meter) time in the Decathlon (fifth event) was 52.2 seconds, a fourth place finish

. That was the year Thorpe swept the Decathlon point-wise, then being rewarded with the Olympic Gold Medal by Sweden's King Gustav V who told Thorpe, "You, sir, are the greatest athlete in the world." In '13 however, Thorpe's medal was wrongly taken away from him in violation of the IOC's (International Olympic Committee) own 30-day protest rule—the foregoing, simply because of the by then public knowledge of Thorpe's seemingly questionable amateur status. Thorpe died at the age of 65 in '53. His medal was restored by the IOC in '83, more than seventy years after the fact. By then, the original medals had disappeared.
Now, let's return to when Jim's state record of 50.2 seconds in the open quarter mile was broken. At about that time, the FSU head track coach, Ken Miller (Mike Long's boss), called Jim and offered him a partial scholarship and a job in the lunchroom to help defray expenses at FSU. Jim had only five dollars and a small suitcase when he arrived on campus after a relatively long ride on a Greyhound bus due south from Atlanta in north central Georgia to the northern Florida panhandle city of Tallahassee.
Once he got to FSU, Jim made it a point to let it be known just how much an education meant to him—and that he was fully aware that the track scholarship was the single most important key unlocking the door to the academic threshold that promised to take him from his teenage past to a successful adult future where he could support his family.
Unfortunately, Jim did not have good grades during his freshman year at FSU ('53-'54). As a matter of fact, he can't even remember how or when he managed to acquire the textbooks required for his courses!
Mediocre grades brought home to Jim the rude awakening that he would not be eligible to come out for the '55 track team in the spring of his sophomore year. Under the circumstances, he decided to volunteer for the active army draft in February—before the '55 track season even got underway. Yes, that's how important grades were, and Jim was acutely aware of that fact—notwithstanding the flip-side fact that Jim's freshman year produced several new track records and earned him high point teammate during the '54 track season.
In the 1950s and even later on, runners simply had to face facts. That is, track was not a big moneymaker like the more "crowd pleasing" sports were and continue to be, e.g., football and baseball. So, Jim would be allowed little if any leeway for either a literal or symbolic end run around academic grades on the way to the oval track and his goal of a bachelor's degree. At the end of the day though, Jim Casteel would find himself much better off overall after his U.S. Army stint as a medic. He would return to FSU for his junior year in '57-'58—with by that time, a full 2-year track scholarship facilitated by the new head track coach, Mike Long.
---
Also at the end of the day and as the years passed, Jim began to think more about where he and Eleanor would be spending eternity—and when they might get there.
At the time of his Florida State University (FSU) Hall of Fame induction speech, he just naturally reflected on earthly successes and rewards. He also joked that he was the "Forrest Gump" of the 1950s. Even so however, that was also about the time that Jim sharpened his focus on what he considers to be the more important reward.
In Jim's own words, "This life is only temporary, but the life that follows is eternal. We must run this race with our eyes fixed on this everlasting reward. This is the reward I'm running for now."
---
There is one aspect of young teachers that I find particularly interesting. That is, they really aren't all that much more mature than their oldest students. So, that means that they are really more like older brothers and older sisters to high school seniors, for instance. I must admit that I didn't think of it that way back in the 1960's when I had a number of young teachers at CKHS. However, as time went along I came to that realization. Perhaps that's why at least a few of my female teachers had a tendency to bawl their eyes out when simply overwhelmed by the sheer audacity of some of their older male students in the classroom. But then again, that's another story, I guess.
What really stood out about Coach Casteel was the modest way in which he set the example—thus calmly and quietly motivating me to do my best. Unlike a basketball and wrestling coach that I had some unpleasant experiences with—Coach Casteel simply didn't engage in browbeating or other similar unproductive methods. As a matter of fact, my late band director was even on the dictatorial side. My relationship with the latter involves another story altogether, which (like discussing bawling young women) I may or may not elaborate on at some point in the future.
Now it could be that there is a distinct difference in methodology required when coaching individual track and field athletes versus synchronizing a 5-man basketball team into moving up and down court between baskets for instance—or training a band to follow the drum major's direction as it moves onto the field and into the home team's end zone for an exciting fanfare, before following the drum major on down the field in the form of a locomotive with wheels simultaneously turning and smokestack fuming.
As I mentioned earlier, I was that drum major—and believe me when I say that the Cross Keys halftime show at a football (or basketball) game was in fact truly exciting. Plus, after a quarter century of leading soldiers as an NCO, and commanding three consecutive engineer units of The Best and Finest of Us™—I can say from experience that the self-disciplined art of calm & quiet motivation is across the board the best of all ways to solicit learning, growing and advancing in young men and women, whether they are students, athletes or soldiers.
Frankly, I had no idea about Coach Casteel's hall of fame running exploits at Florida State University (FSU), nor of his time as an army medic in The Best and Finest of Us™ ('55-'57) at Fort Sam Houston, Texas—the post-Korean War draft having been a course of action he chose after receiving a partial track scholarship for his freshman and sophomore years ('53-'54 & '54-'55). The photos, below, are pretty much self-explanatory in their relating some of the story of Jim Casteel's running and coaching career after he graduated from Avondale High School and then FSU. Interestingly, the founder of Avondale Estates, Georgia, modeled it after Shakespeare's Stratford-Upon-Avon in south-central England's Warwickshire.
Speaking of Coach Casteel's alma mater (and as mentioned earlier in this narrative), that's where in '63 his stopwatch bore witness to my first place win and a record setting open quarter mile (440 yard dash). He clicked me in at 53.6 seconds. Also in my senior year, he clicked me in at a record setting 51.0 seconds for the third leg of the mile relay at the '63 Georgia State Track Meet.
After a long career in high school coaching and teaching, Jim Casteel presently resides in Georgia with his wife, and near his children and grandchildren. Both Jim and Eleanor are octogenarians, and enjoy hiking while also searching for picturesque and exciting southern waterfalls.
Coach Casteel's other passion is his and Eleanor's back garden at their home in Flowery Branch, where she proudly and humorously points out that her husband put in more than two hundred plants—all by himself and with only minimal supervision from her.
More later on the life and times of James Mayo Casteel...
Coach

James Mayo Casteel
Florida State University Hall of Famer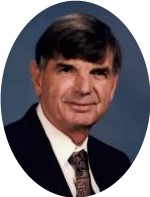 Coach James Mayo Casteel, age 88 of Flowery Branch, Georgia, died on Monday, January 31, 2022, at the Northeast Georgia Medical Center in Braselton following a bout with cancer and two surgeries.
Coach's wife, Eleanor, and their family received admirers and friends at 10:00 AM, Saturday, February 19, 2022, at the Memorial Park South Funeral Home—this, immediately followed by a Celebration of Life in the cemetery chapel, the Reverend John Batusic officiating.
Casteel was born June 17, 1933, to the late James Mayo and Myrtle Polson Casteel in Porterdale, Georgia, and was preceded in death by his parents, 3 brothers; and a sister.
A Veteran of the United States Army, Coach was a retired teacher and track & field coach with the DeKalb County School System, having begun his career at Cross Keys High School on North Druid Hills Road in 1958 at Atlanta, Georgia.
Casteel was a member of Chestnut Mountain Presbyterian Church.
Coach was inducted into the Florida State University Hall of Fame in 1995 as an All American track & field athlete, having set what would become longstanding records in the open quarter mile and mile relay.
Coach is survived by his loving wife, Eleanor; sons & daughters-in-law, Mike & Donna and Ron & Lisa ; four grandchildren; and four great-grandchildren.
He will be sorely missed by all he coached...and all who ran with him!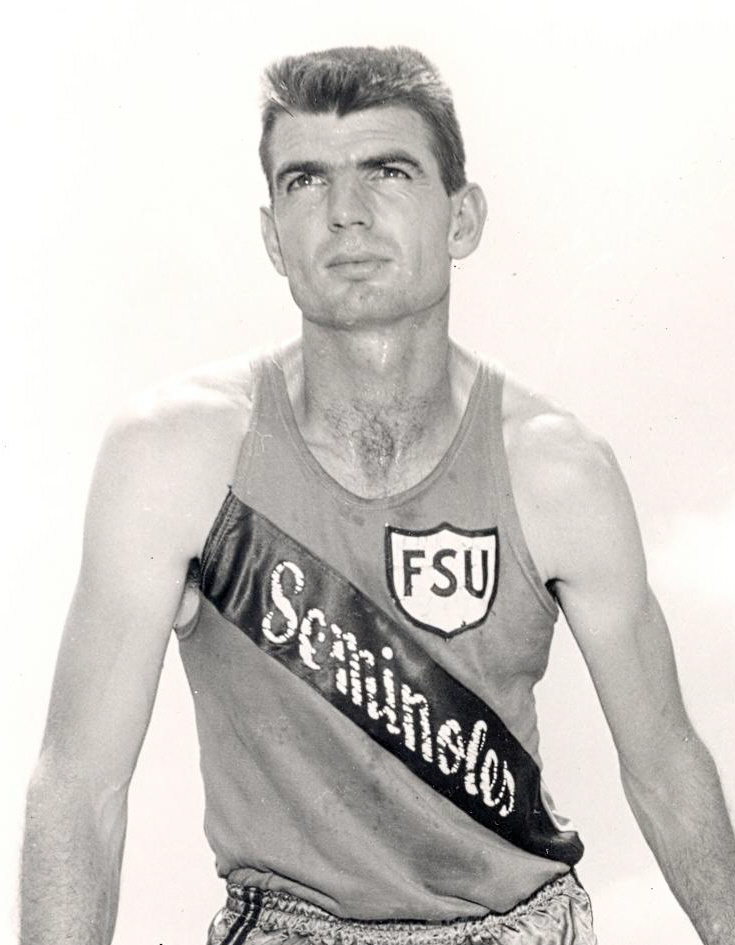 Retired Coach Jim & Mrs. Eleanor Long Casteel
September 19, 2018
At Their "Flowery" Home in Flowery Branch
Hall County Georgia
Click Image to Enlarge
Jim & Eleanor Long Casteel
August 2018
Home Magazine "Yard of the Year"
Residential Beautification Award
Chamber of Commerce
Greater Hall County Georgia
Click Any Image to Enlarge
Click Any Image Twice to Read Small Print


FSU "Seminoles"

Jim Casteel

"Out of the Blocks"

Click Photo to Enlarge

FSU "Seminoles"

Jim Casteel

"Crosses the Finish Line"

Click Photo to Enlarge

FSU "Seminoles"

'57-'58

Record — 47.0 Seconds

Open Quarter Mile (440-Yard Dash)

Record Unbroken for 17 Years

Click Photo to Enlarge

FSU "Seminoles"

'53-'54 '54-'55 '57-'58 '58-'59

Jim Casteel — Hall of Fame 1995

Self-deprecating

1950s "Forrest Gump"

with "Better Hair" than Tom Hanks

Click Photo to Enlarge

Jim and Eleanor Long Casteel

Hiking

2000

Click Photo to Enlarge

Jim and Eleanor Long Casteel

Abrams Falls Tennessee

2007

Click Photo to Enlarge

FSU "Seminoles"

'53-'54

Mile Relay Team

Jim Casteel

Carlos Fraundorfer

Don Ayers Lloyd Lassen

Click Photo to Enlarge

FSU "Seminoles"

'53-'54

New Track Freshmen

Larry Hountha Charlie Watson

Jim Casteel Frank Bright

Click Photo to Enlarge

Jim and Eleanor Long Casteel

2015

Click Photo to Enlarge

Jim Casteel and Grandkids

Dupont Forest NC

2008

Click Photo to Enlarge

Jim and Eleanor Long Casteel

Shenandoah Valley

2006

Click Photo to Enlarge

Jim & Eleanor Long Casteel's

Back Garden

Flowery Branch Georgia

Designed & Planted by Jim

Click Photo to Enlarge

Coach Casteel

'62-'63

CKHS Varsity Track & Field

'62-'63

Coach Casteel

'62-'63

CKHS Yearbook

'62-'63

Coach Casteel

'62-'63

CKHS Varsity Cross Country

'62- '63

Cross Keys High School "Indians"

'59-'60 '60-'61 '61-'62 '92-'63

Head Track Coach

Click Any Photo/Image to Enlarge

Florida State University "Seminoles"

'53-'54 '54-'55 '57-'58 '58-'59

Mike Long

Head Track Coach

Click Any Photo/Image to Enlarge

Medic & Still Running

Fort Sam Houston Texas

Jim Casteel

1955-57

Click Photo to Enlarge

Jim & Eleanor Long Casteel's

Back Garden

Flowery Branch Georgia

Designed & Planted by Jim

Click Photo to Enlarge

FSU "Seminoles"

Strozier Library Renovation

Click Photo to Enlarge

FSU "Seminoles"

Strozier Library Renovation

Click Photo to Enlarge

FSU "Seminoles"

Strozier Library Renovation

Click Photo to Enlarge

Jim Casteel

Still Running at 46

with Sammy White Jack Brocksmith

Louis Johnson

Atlanta Track Club

Gresham Oregon

"Nationals" Mile Relay Team

1979

Click Photo to Enlarge

Track Reunion

1995 FSU '59 Hall of Famer

Jim Casteel &

1992 FSU '55 Hall of Famer

Carlos Fraundorfer

circa 1995

Click Photo to Enlarge

Sugar Bowl — New Orleans

Jim Casteel

440 Yard Dash

1957

Click Photo to Enlarge